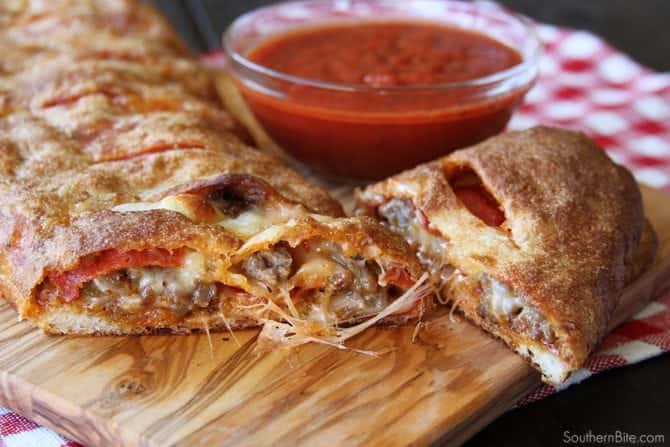 What is Stromboli?
What is Stromboli?
Mom's Stromboli is one of a kind. But first a little background on Stromboli. In Sicily there is an island called Stromboli which has one of the three active volcanoes in Italy, called Mt. Stromboli! Some say that Nazzareno Romano took the name for his delicious rolled pizza creation from this, after how the ingredients look like they are about to explode from a volcano. There is another version to the story however, which is that he was inspired by the love affair between the actors Roberto Rossellini and Ingrid Bergman on set during the filming of "Stromboli Terra di Dio". Whichever the truth, they no doubt will make for great conversation starters at your next dinner party!
Why is MOM's pizza & Pasta Stromboli one of a kind? Because we took an already good comfort food and made it better. Since most strombolis are made with multiple rolled layers of dough, at Mom's we start with thin layer of our secret recipe dough and brush it with our signature house garlic sauce. We also only do 2 layers to make it less doughy and more flavor.
Mom's Stromboli is then cooked in our stone pizza oven at a set temperature to give it that perfect golden brown top but yet chewy, fluffy and fully cooked inside.
As for the fillings, it comes with hand shredded mozzarella, grated parm. and our secret EVOO sauce. We recommend a meat and vegetable filling to give it that out of this world flavor.
Order one today at www.momspizzasd.com or call us at 858-201-3225.